I'm sure you've heard of it – I can't stop looking. No, I'm not talking about Twitter, I mean the strange creation called "LOLcats": photographs of cats with cute phrases written in text message or leet speak on them.
Here's one I just made using our two cats, Lilikoi and Java: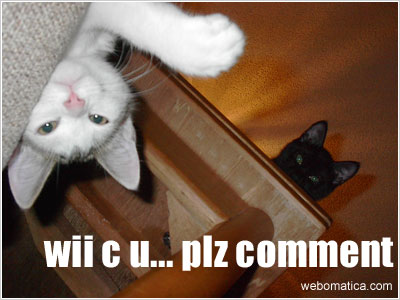 Here are of my favorite examples:
Here are the best sites I've found that collect LOLcat pictures:
Now you may want to create your own:
Once you get the general idea, it's time to branch off:
Analysis
Variations
So to sum up, I find LOLcats really hilarious. I think it's partly because we're obsessed with our cats, and even talk to them in cute voices.
Here are some more cat-related links (because it's Caturday):
I don't think I'm gonna win. So why don't you have a go? You can download a bunch of cat photographs via the engtech blog.
Meanwhile, I'm creating a new page for the above LOLcat resources, to which I'll add to over time.